Drinking and eating while driving doubles the likelihood of having a car crash. Drivers caught drinking and eating at the wheel could be convicted of driving without due care and attention (CD10).
The Dangers of Drinking and Eating While Driving
Drinking and eating at the wheel can cause a mental overload that diminishes the ability to deal with other events on the road. Drive4Life  found that the number of crashes actually doubled with drivers who were eating and drinking while driving. Many drivers may view drinking and eating while driving as a fairly inconsequential act but it can easily lead to serious road traffic accidents. Driving without due care and attention (CD10) may be the minimum offence applied if a serious road traffic accident occurs. Around 53% of 3000 drivers surveyed admitted to consuming food and drink while driving.
Consequences of Drinking and Eating While Driving
Serious consequences for the perceived minor act of drinking and eating while driving can include-
a) Three to nine Penalty Points applied to a licence and a fine
b) Higher insurance premiums; as much as 40% higher than normal
c) Applied points could total enough for a driving disqualification
d) Lack of concentration can lead to very serious road accidents and increased penalty points and fines
e) Conviction of offences can often lead to the driver losing their job
Distracted drivers have been know to cause serious accidents including the deaths of other road users
Drinking and eating while driving may seem like a minor offence but this act can have serious consequences for drivers and road users. Not only can this act lead to convictions and higher insurance premiums but distractions can lead to the lives of other drivers being changed forever. Drivers should take the precaution of drinking and eating only at rest stops or in parking areas.
Learner drivers in England, Wales and Scotland will be allowed to have lessons on the motorway by next year, the government has announced.
The lessons would be in a dual-control car with Drive4Life Instructor.
Currently only those who have passed their test can drive on a motorway, but in 2015 the DfT said it would consider a law change.
Transport Secretary Chris Grayling said the lessons would make UK roads safer.
He said: "Allowing learners to drive on motorways in a supportive environment will help them develop a practical understanding of how to use motorways safely before driving independently."
Road deaths link
Mr Grayling said young drivers were more likely to be killed or seriously injured on Britain's roads – and a lack of experience was an "important factor".
"The UK has some of safest roads in the world and we want to make them even safer," he said.
New driver Leonnie Wharton, from Wigan, told the BBC: "I passed my test a week ago and have been on the motorway twice on my own.
"It was quite a scary experience, I'd read up on the theory but actually doing it is completely different.
"I'm apprehensive about doing it again on my own, but I don't want to get to the point where I actively avoid going on the motorway."
At Drive4Life we know that driving tests are not fixed. There are no quotas.
Pupils like to blame a fail on quotas but conveniently forget to mention them when they pass.
Wouldn't ld you tell your friends that you passed but only because too many others failed that day and they had to stick to their quotas? You can't have it both ways, if you fail due to quotas then you pass due to quotas.
Here's a Drive4Life example of how incorrect the quota theory is. Drive4Life had a request from another driving school asking if I could take their pupil on a driving test the next day because of illless and they couldn't do it (in other words they knew the pupil had no chance and didn't want to turn up for a test with him). Drive4Life took the pupil in my car as a professional favour but when on the test the pupil was awful. The pupil kept moving off when cars were about to pass, making them swerve or brake and he almost crashed four times. Despite that, and the people who the pupil nearly hit blasting their horns at them, and the examiner telling the pupil they wasn't ready, and Drive4Life telling him he wasn't ready, you guess why the pupil said why they failed? The pupil said it was all fixed and that's why they had failed.
Another example is when a pupil tried to drive the wrong way down a one-way road. He refused to accept that he'd done anything wrong and said the examiner was racist and had quotas. Nothing to do with trying to go the wrong way down a one-way road then?
As for people saying they make more money from failing you and making you pay for another test, here's why that theory is incorrect. A new test is £62. The tax you'd pay to the government on insuring your first car would be over £1000.00, not to mention the fuel, road tax etc. They make more from you passing, not failing!
Drive4Life have taken pupils to over 300 driving tests and sat in the back of the car in over a quarter of the tests. Not one has ever been fixed. We also know many examiners and they are not told to fix tests. They don't have quotas. It is not fixed and if you didn't pass you just weren't good enough. The only people that say it's fixed are people who are angry that they failed and won't face up to the fact that they made a mistake.
With motoring costs at an all-time high, how much do you think it costs a learner driver to become a fully qualified motorist?
According to new research it will cost the average learner £2,741 to gain their full qualification.
The average cost of a driving lesson is now £25.00, and with the DSA (Driving Standards Agency) recommending 47 hours of tuition under the supervision of a professional instructor, the total cost of lessons for a learner will be £1,175.00.
However, the DSA also recommends 22 hours of private practice under the supervision of a friend or family member who is over the age of 21 and has at least 3 years of driving experience.
This is where the biggest expense will be accrued as it is a legal requirement for the learner driver to be featured in a car insurance policy covering the vehicle they will be practising in. Data suggests that the average driver between the ages of 17-19 pays approximately £1,42.00 per year for motor insurance cover.
There are a number of other expenses to be considered as well, including the cost of actually taking the mandatory theory and practical tests. Even if the learner passes both of these first time, it will still cost £92.00 to complete the tests.
The Drive4Life team will always try to keep the learning costs reasonable but these costs are not fixed and depends on the speed of learning of the pupil. When the learning of skills are complete then Drive4Life ensure that the pupil gets as much driving experience as possible to get them ready for future driving.
Another variable cost to the pupil when passed their test is the option of Pass Plus when is an optional course taken with your Drive4Life instructor taking in night and motorway driving. The Drive4Life instructor will ALWAYS encourage the pupil to do at least two hours motorway driving but unfortunately these options are rarely taken due the above costs incurred by the pupil.
New drivers face losing their licence if they use their phones at the wheel under tough measures coming into force  from 1 March 2017.
Drivers using a phone while driving will receive 6 points on their licence and a £200 fine. That is up from the previous 3 points and £100 penalty.
Drivers caught using their mobile twice or accruing 12 points on their licence will face magistrates' court, being disqualified and fines of up to £1,000. New drivers, within 2 years of passing their test, risk having their licence revoked and lorry or bus drivers can be suspended if caught.
The tougher punishments come alongside a hard-hitting advertising campaign.
In 2015 – the latest year for which figures are available – 22 people were killed and 99 seriously injured in accidents where a driver was using their phone.
Mobile phones: What the law says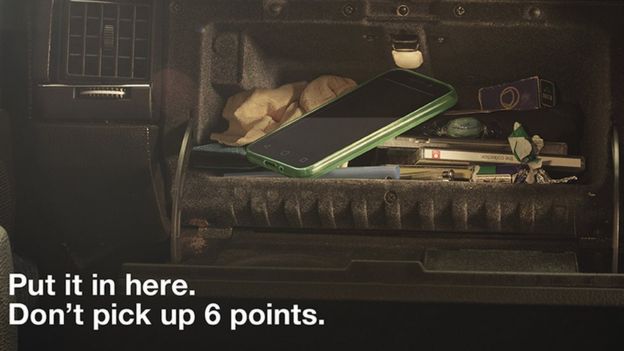 Can I check social media or texts if I'm queuing in traffic or stopped at traffic lights?
No – a hand held phone cannot be used, even if stopped at lights. Texting and scrolling social media (even if the phone is mounted on a hands-free holder) is distracting and dangerous. It doesn't come under the handheld mobile phone law but the police may decide to charge you with a number of other offences.
Can I use my phone to listen to music, play podcasts or watch video clips?
You can't watch video clips – not even if your phone is mounted in a hands-free holder.
You can use your phone to listen to music and podcasts but only if your phone is in a hands-free holder or connected by Bluetooth.
However, just as you can be distracted by the noise of a car radio, if it affects your ability to drive safely, you could still be prosecuted by the police.
Can I use my phone's sat nav?
Yes – as long as the phone is mounted in a hands-free holder. If it's in your hands, it's illegal.
However, if you are distracted by the sat nav and it affects your ability to drive safely, you could still be prosecuted by the police.
Can I pull over to check my phone?
Yes, providing you are safely parked with the engine switched off, you can pull into a lay-by or pull up on a single yellow line (providing there are no road markings showing restrictions at that time).
What counts as hands-free?
A dashboard holder or cradle, earphones or a Bluetooth connection. It is illegal to use hand-held microphones or to hold your phone out on loudspeaker.
Smart watches and voice-activated software are legal, but again can be a distraction, and the driver may be liable for other offences.
So what can I do on my phone?
You can only use your phone in your hands if you are safely parked. The only exception is if you need to call 999 or 112 in an emergency and it is unsafe or impractical to stop.
What about learner drivers?
The same rules apply, and it is also illegal to use a hand-held phone or similar device when supervising a learner driver or motorcycle rider.
Drive4Life instructors message is simple and clear:
Do not get distracted by your mobile phone while driving. It may seem innocent, but holding and using your phone at the wheel risks serious injury and even death to yourself and other road users.
Doubling penalties will act as a strong deterrent to motorists tempted to pick up their phone while driving and will also mean repeat offenders could find themselves banned from our roads if they are caught twice.
Everyone has a part to play in encouraging their family and friends not to use their phones while driving – it is as inexcusable as drink driving.
Drive4Life instructors are teaching you to drive to a high standard and  get you prepared to pass your driving test. Drive4Life instructors are fully aware that the requirements for the practical driving test are changing for 2017.
The practical driving test will feature four new additions this year.
Each of these additions builds on existing elements of the current test and the new driving test changes will come into effect later in 2017. These changes take into account new technology and more realistic driving scenarios and manoeuvres. Drive4Life instructors reckon they pay particular attention being paid to driving in rural areas.
How is the test changing?
1. Independent driving will increase to 20 minutes
The part of your driving test where you're asked to drive independently is going to be made much longer – which feels like a good thing. This is the part of the test where Drive4Life instructors will teach you to be in control and by making this double the amount of time, you can feel confident and more relaxed in the driving seat.
Knowing you have 10 more minutes to do your thing should make you feel less panicked and, most importantly, allow you more time to show that you're good with the basics.
2. Following Satnav directions
Don't panic but as part of that 20 minutes of driving, you'll be asked to follow a Satnav for directions instead of listening to the examiner. This has come into focus because a lot more drivers are relying on Satnavs to get them from A to B.
Driving with a Satnav is definitely a skill that's important. Drive4Life instructors will be taking you on routes using a Satnav as it means concentrating on more than just the road ahead. It trains your brain to read the screen and the road at the same time, assessing each one and applying common sense before making a move.
But don't worry – if the satnav starts telling you "you have reached your destination" when you're still at a roundabout, the examiner will be ready to step in and help you out.
3. More real-life manoeuvres
So the two manoeuvres set to get the boot are reverse around a corner and turn in the road. (Pause for clapping and cheers?)
These will be replaced with more real-life situations:
Driving into a parking bay in a public car park and reversing out
Pulling up on the right of the road, reversing a short distance and rejoining the traffic
Confident driving in every situation is key and Drive4Life instructors will continue to show  the everyday scenerios that you come across that can make you really anxious.
Being able to drive into Sainsbury's car park without fearing that you're going to get stuck in a bay forever or scratch up the Audi next to you is going to be more useful to you than that turn in a quiet back-road with no one watching.
The whole point is to prepare you for real-world driving. Why not go all-out and include drive-thru's in the test? Extra points for ordering your examiner a milkshake and fries.
4. Being asked a safety question while you're driving
We've all had that moment of sheer panic during a driving lesson when your examiner suddenly asks you to turn your wipers on and you're like what?! sorry?! where?! me?!
Well, this change to the test is going to be a good step to try to ease that reaction.
As part of the show me, tell me questions that are currently in place, Drive4Life instructors will ask you to answer an instruction inside the car (like adjusting your demister) while you're driving, instead of at the start of the test when you're parked up.
Again – a much more useful skill to have for real-life driving.
Change is good
Our roads and the technology we use are constantly changing and making sure the driving test syllabus changes with them is really important.
As with any change, the initial months will probably be a bit new and scary, and will inevitably raise some concerns – just like the news on learners taking to the motorways. But keeping new drivers in bubble wrap during their lessons is not going to produce confident drivers and reduce crashes.
New drivers need to be fully equipped to deal with EVERY situation on the road before they set off on their own, These changes will be taught by Drive4Life instructors that should definitely help new drivers.
So, what does this all mean?
Well, the good news is that your test won't change drastically.
Instead, these changes are simple and subtle variations, amendments or additions to current, existing test tasks.
For the first time, however, motorists will be asked a theory question whilst driving.
This is opposed to just being asked when you are stationary, like in previous years.
You will also be required to drive independently (with prior guidance from your examiner) for 20 minutes not 10 minutes
Being able to read a sat-nav display whilst driving will also be a requirement.
Why is the test changing?
Put simply: the test is changing because it needs to.
Drive4Life instructors are concerned about pupils being OVERCHARGED on some copycat websites when booking their driving test.
If you type the names of some popular government services into search engines, some of your search results might be ads for sites that offer a service. You could get this service for free (or for much less) on GOV.UK , the government's own website.
Some of these copycat websites offer to book theory and practical driving tests, and look like they might be official, but they actually charge a premium for their services.
Some websites charge up to £30.00 for just booking a test, on top of the driving test fee itself
a 'pass protection' fee with the promise of a free retest that very few customers actually qualify to use.
Copycat websites don't let you pick an actual appointment, and don't give you instant confirmation of your booking.
Save money by using  
GOV.UK is the only official driving test booking website for both theory and practical tests.
Using GOV.UK to book your test:
A car theory test costs £25.00 and a driving test costs £62.00 when booked through the official website;
a) you can save yourself money
b) you pick the exact date and time of your test
c) you get an instant confirmation of your booking
Drive4Life instructors advise you to use GOV.UK to access driving test booking website.
It is perfectly normal to have first driving lessons nerves but be assured that your Drive4Life driving instructor is experienced in dealing with nervous learner drivers and they are expecting you to have those first driving lesson nerves. Drive4Life instructor will be patient and friendly, will not expect too much of you from your first driving lesson and will try their best to put your nerves at ease.
It's not always about first driving lesson nerves however. Many learner drivers have driving lesson nerves through the majority of their driving course on each and every lesson. This is also perfectly normal too, but your nerves should subside soon after the lesson status. If you are having issues with driving lesson nerves and believe they are impacting your progress, you will need to look at ways to reduce these nerves.
First driving lesson nerves or nerves at the start of each lesson are perfectly normal. If however if they continue throughout each and every lesson, it can impede your ability to make progress and learn. Drive4Life will recognise this quickly and together we will resolve ASAP.
Your Drive4Life instructor will not shout, get angry or irritated when you make mistakes. You are after all a learner. Drive4Life driving instructors make their learners feel relaxed and actually have a great laugh during lesson. If you feel nervous during lessons because you're afraid of upsetting your instructor, this will need to be resolved.
If your instructor is great, you will then need to establish why you are making yourself nervous. This can of course be for many reasons. The most common being that you are afraid you will cause some kind of accident. Your Drive4Life driving instructor is qualified to teach learner drivers and also has dual controls that will allow them to prevent an accident happening, so this is highly unlikely. Any accidents or tyre damage is covered by the instructors insurance also.
Another frequent reason for driving lesson nerves is learners expecting too much from themselves. Don't try too hard to do everything perfectly correct on your lessons. Making mistakes is what enables us to learn. Relax, chat and have a laugh with your instructor during your lessons, you will learn far more.
If you feel your Drive4Life instructor is pushing you too hard, resulting in you making too many mistakes, ask them to slow down a little and take things a little easier. It's also better to take two or three driving lessons per week instead of one lesson. Taking a single lesson per week leaves too much time between lessons, leaving you anxious that you have forgotten everything.
Being slow, impeding other road users and making mistakes is a big issue with learner drivers. Stalling at junctions, traffic lights and roundabouts is a big fear (see how to stop stalling a car). First thing to remember is that you're a learner, so don't worry about anyone else, they were a learner once too. Remember also that bringing the clutch up quickly WONT make you go faster, it will make you stall (if you're driving a manual). Relax and bring the clutch up just as you do on those quiet roads where you don't stall. Releasing the clutch slowly makes you move off much faster than stalling and you're not nearly as slow as you think you.